LiFePO4 48V 300Ah for tow tractor
This battery pack is best for applications are for Automatic Guided Vehicle forklift. Custom made battery packs are available.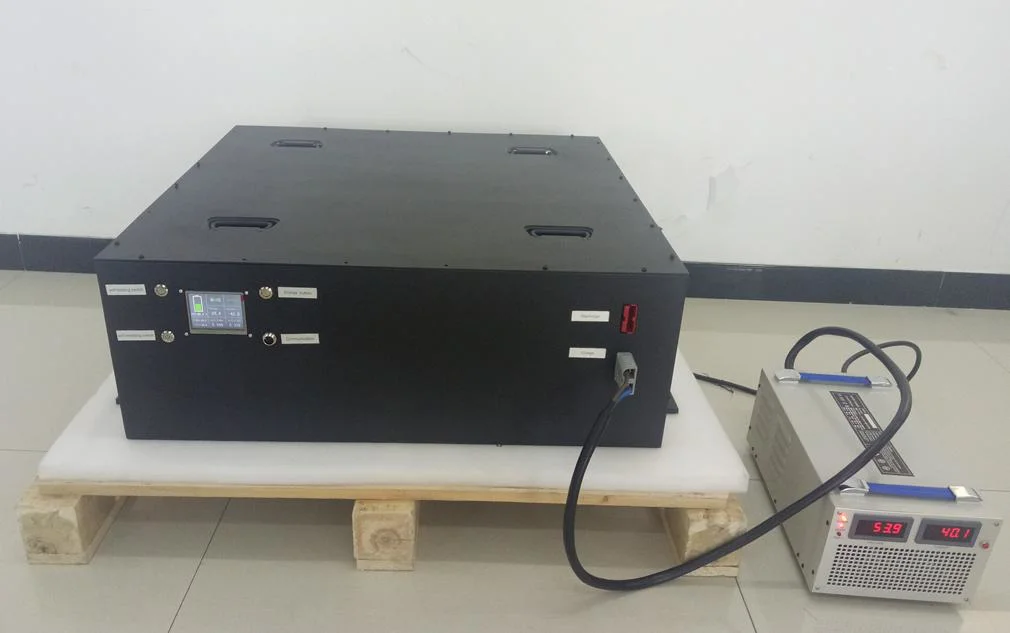 Characters of the LiFePO4 battery for AGV:
*
The battery fitted with temperature sensors and
will sound a warning
when the temperature is higher than
65
celsius degrees
.
*
The BMS
system
adopts the contacor/electric relay for high current drain which supports
high
continuous and peak discharge current
.
*
The
battery is with RS232/RS485/CAN BUS
communication function
, balancing function.
*
The battery fitted with LCD display screen and can read battery voltage, battery discharge current and each series voltages and monitor battery status.
*
The BMS
system
can connect with PC computer with PC software which can read and load battery complete data.
Specification
Model

ENBY

-

48

V/

3

0

0Ah

Capacity(0.2C

5

A)

3

0

0

Ah

Nominal Voltage

51.2

V

Max. Charge Voltage

58.4

V

Discharge Cut-off Voltage

4

4

V (recommended)

Working Voltage Scope

4

4

V~

58.4

V

Max. Charge Current

150A

Continuous Discharge current

150A

Max.Discharge current

300A

3

Seconds

Battery Dimensions

800

*

800

*3

0

0mm(L*W*H) or customerized

Impedance




(Max, at 1000Hz)

Single cell

≤

2

mΩ

Cycle Life

(80DOD%

0.5C

)

>

5

0

00 Times

Self-discharge Rate

≤3%(month)

Charge Method




(CC/CV)

Standard

4

0

A×

7.5

hrs

Quick

6

0

A×

5

hrs

Operating Temperature




Charge

0

ºC

~45

ºC;

32

o

F~113

o

F

Discharge

-20ºC~60ºC;-4

o

F~149

o

F

Storage

-20ºC~45ºC;-4

o

F~113

o

F
Advantage:
Enerbyte battery packs are using the best quality battery cells which are strictly with assembling standards to match each other. And we have many battery cells available especially lithium and LiFePO4 18650 and 26650 battery cells.
We build OEM customed battery packs with accurate battery size, wiring harness, and various connectors to make sure all the details meets customers
'
needs.
We use the intellectual BMS and IC to protect the battery pack from short-circut, over-charge, over -discharge, over- temperature and also balancing voltage, and communication functions are available.
The out appearance and casing are available for choose, such as ABS case, iron case, hot shrink film and plastic case.
You can get following if you choose Enerbyte:
* Quality assurance * Reasonable price * Fast shipment
* Logistics support *Customized service * After-sales assurance.


Tianjin Enerbyte Electronics Co., Ltd, is
a professional lithium manufacture
in China. We are a high-tech and new energy enterprise , developing, designing and producing
Lithium battery cells and battery packs
, including NMC and LiFePO4 battery
.
Enerbyte battery products cover lithium power batteries, energy storage batteries and consumer electronic batteries. Our products are widely applied in electric vehicles, power tools, medical equipment, solar/wind energy storage, backup battery bank, emergency and security equipment, Handel terminals, military equipment, communication systems and many other fields.
We have more than 8 years of experience in exporting Lithium batteries, distributed to USA, Canada, Italy, United Kingdom, Germany, Australia, France, Thailand, South Korea and many other countries and regions.
Enerbyte possesses strict quality control system, professional team and after-sales services
, we have get following certificate: ISO:9001, CE, MSDS, ROHS, UN38.3 and all products are insured by CIPC.
We also provide OEM services and welcome you to be our new partner!