Dual Discharge Unit Cooler
Dual Discharg unit cooler is for fruit and vegetable food processing plant, and as the end of the central system, used in department stores, supermarkets, hotels, and other business service center.
The product structure is reasonable, low-frost, low shrinkage, low noise, smooth operation, and with ultra-small size, high efficiency.
Product features:
1. The casing is made of quality steel plate, with plastic spray, more strength, anti-corrosive, durable and good looking appearance.
2.Coiled pipes are mechanical expanding tubes in staggered or paralleled arrangement, cooper tube and aluminum fins are combined closely and ensure good effect of heat exchange.
They are devided in 2 groups by temperature:
the L group for -5ºC , the D group for -18ºC .
All the products are anti-rusty, corrosion proof, and high reliablitity.
Long air duct is capable to fix with the products.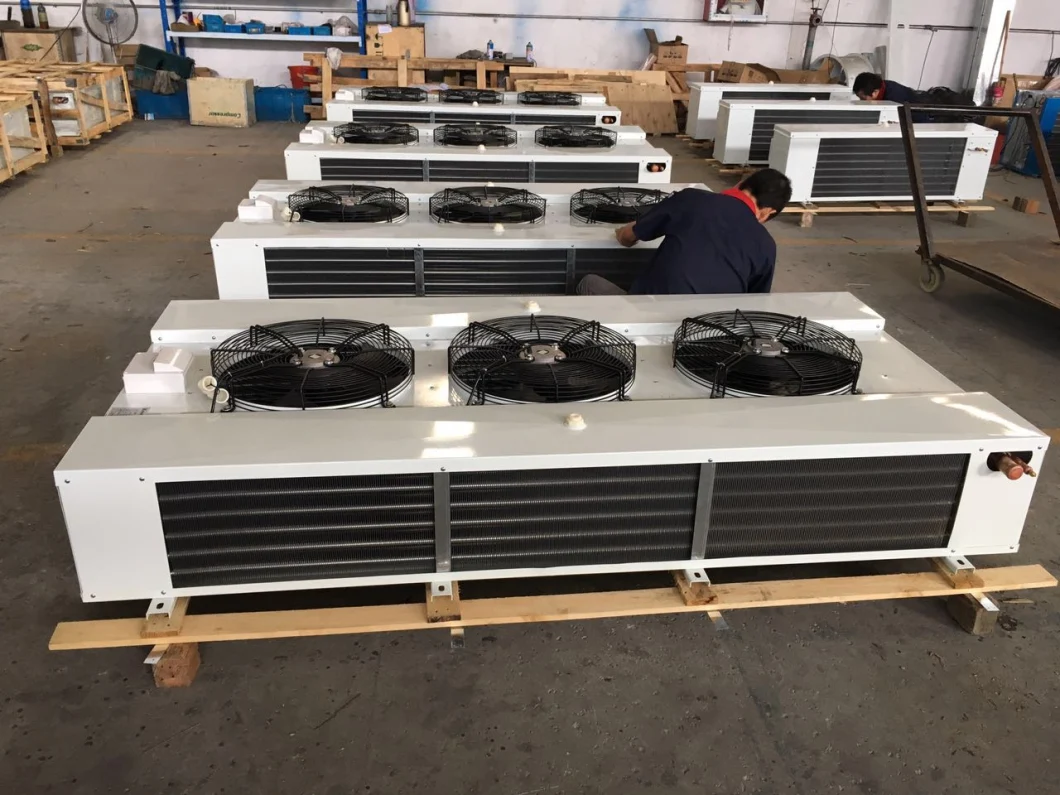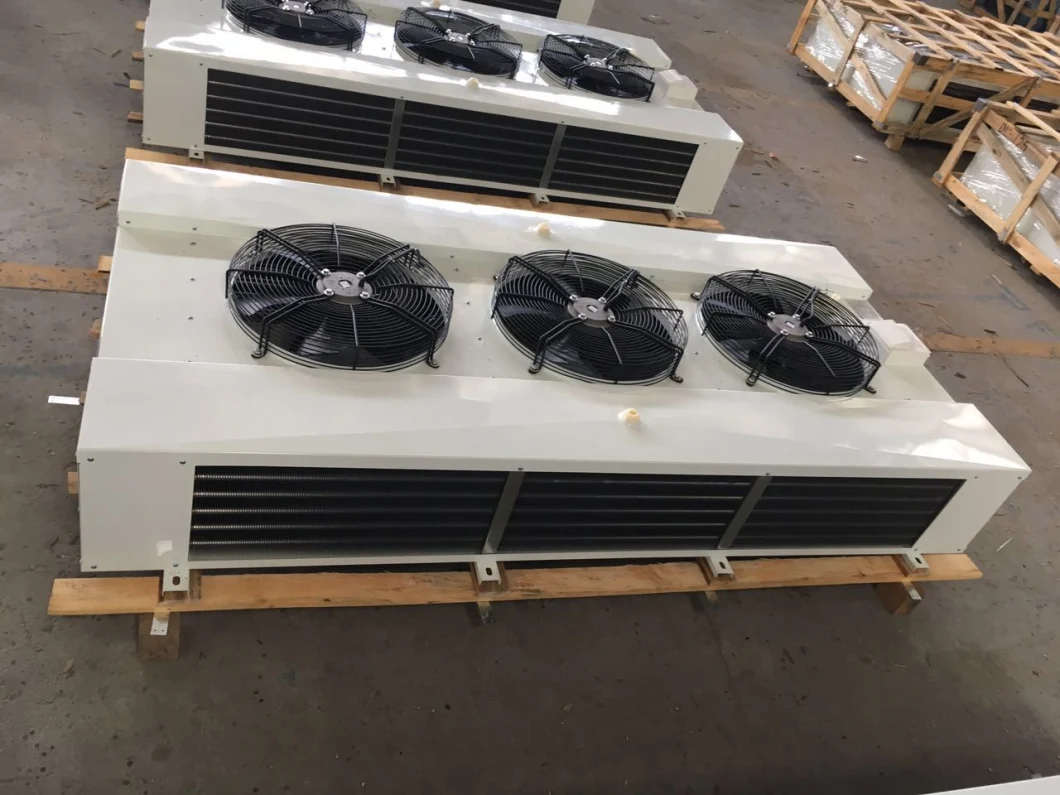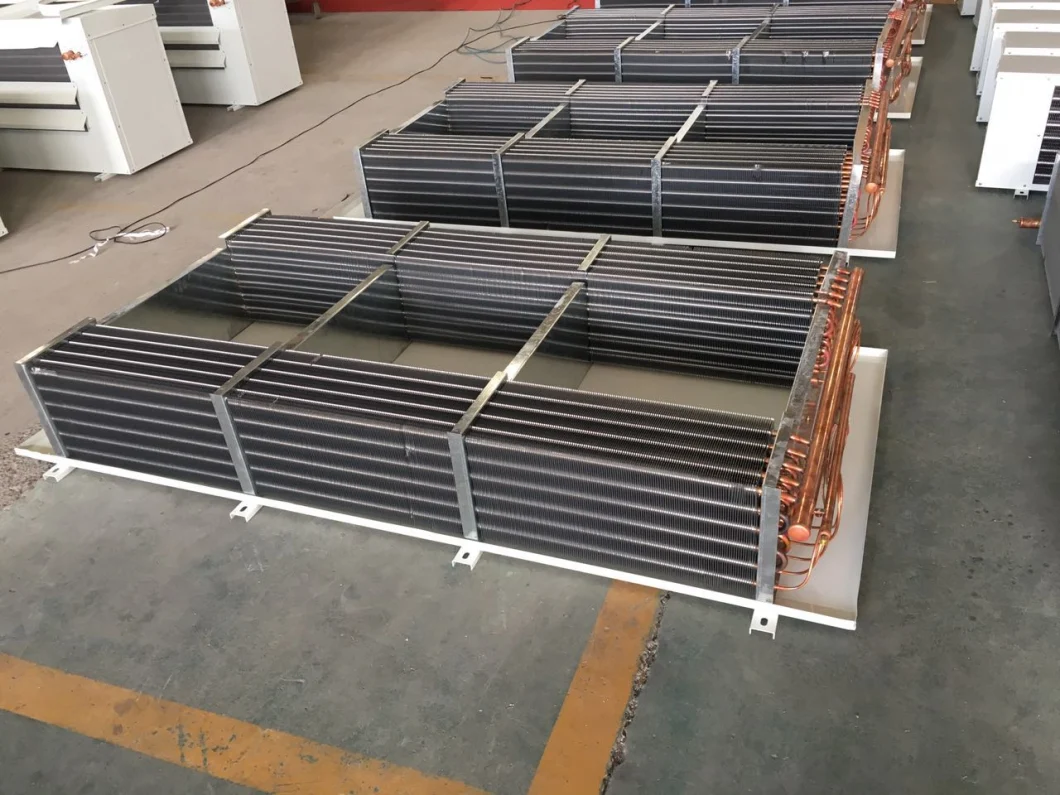 Product Description
Ceiling double side air flow air cooler
1. MOQ:1pcs
2.Payment: 30%TT in advance,70% balance against the B/L copy
3: Delivery time: Within one month after receive the deposit.
4: Port of loading: Ningbo port
SD Ceiling double air air cooling machine technical parameters:
Model

Ref capacity(kw)

Cooling area (m2)

Fin spacing(mm)

Fan motor

Defrost heater

Qty

Dia(mm)

Air volume (m³)

Voltage (V)

Power(w)

Coil(kw)

Catchment(kw)

Power supply

SDL-40

8400

40

4.5

2

350

2*2300

220/380

150

2.4

2.4

220v/50hz

SDL-55

11500

55

4.5

2

350

2*2300

220/380

150

2.4

2.4

SDL-80

16200

80

4.5

3

400

3*3200

220/380

200

3

3

SDL-105

21200

105

4.5

3

400

3*3200

220/380

200

3

3

SDL-125

25300

125

4.5

4

400

4*3200

220/380

200

3.2

3.2

SDL-160

32200

160

4.5

4

400

4*3200

220/380

200

3.4

3.4

SDD-30

6000

30

6

2

350

2*2300

220/380

150

2.4

2.4

SDD-40

8000

40

6

2

350

2*2300

220/380

150

2.4

2.4

SDD-60

12000

60

6

3

400

3*3200

220/380

200

3

3

SDD-80

16000

80

6

3

400

3*3200

220/380

200

3

3

SDD-100

20000

100

6

4

400

4*3200

220/380

200

3.2

3.2

SDD-120

24000

120

6

4

400

4*3200

220/380

200

3.4

3.4
Product features:
1:Kailaili air cooler sheet metal pasrt series all use hydraulic or hydraulic punch one-time punched,good appearance,strength structure.
2:Sheet metal parts are crimped aluminum,spay plate,stainless steel plate can be choosed.
3:Use strong insulating U tubular heater pipe,short defrosting time,high efficiency,also can according customer's request to choose the water defrosting or hot freon defrosting.
4:Coil pipe use the thickness cooper tube,improve the service life,aluminum fin use hign efficiency aluminum sheet,through the pipe expansion and impinges on the cooper tube,the effect of heat transfer increase to the top.
5:Using hign efficiency fan,big air volume,far range,low noise,low power consumption,long service life,hign reliability.
6:Product all through the holding pressure filling nitrogen before product leave the factory.

package:wooden packing