1, LPS large integrated pumping station, paying attention to every detail of the product. The main structure of the device is made of fiber-wound fiberglass (GRP), which is strong, corrosion-resistant and durable. There is a high-quality submersible cutting pump (or large-channel impeller), a submersible crusher, so that the submersible pump can cut the scum in the pumping station, and the long-fiber object is chopped and discharged smoothly under the harsh conditions, without manually cleaning the barrel. Scum and suspended solids, excellent impeller design allows the pump to run at full lift and is highly efficient and without overload, making it a truly non-blocking pump.
2. The submersible sewage pump motor of LPS large-scale integrated pumping station is waterproof motor with protection class IP68. The water pump adopts double machine seal, imported bearing, with overheating and water leakage protection function, and long life design.
3, fully automatic control system (pressure sensor controls the water pump to open according to the water level change), no need for personnel to take control, automatically start and stop. When used 80 times a day, it can be used for more than 10 years.
4, the equipment shell is made of high-grade FRP material, the material surface is smooth, can be used for 50 years, the sealing performance is intact, no odor, low noise, built-in high quality valve and stainless steel pipe system.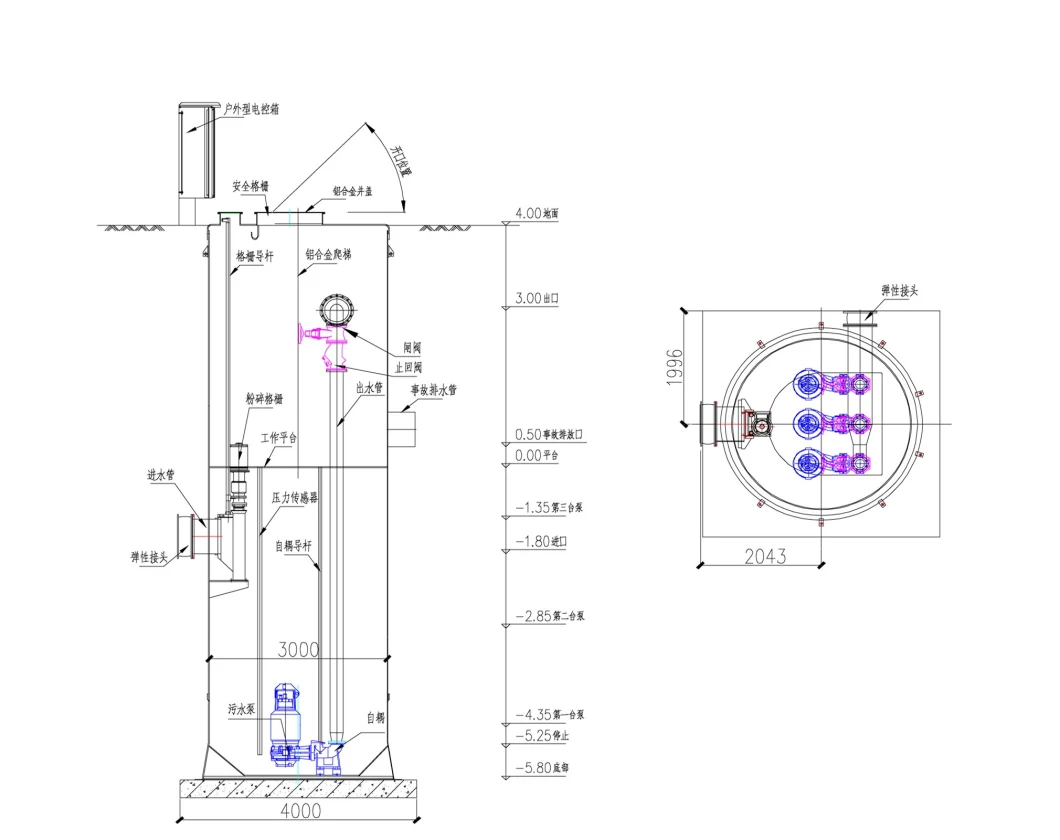 TECHNICAL PARAMETERS
1, the highest lift: 40 meters
2, the farthest horizontal distance: 300 meters
3, the maximum flow: 10--500 cubic meters / hour
4, power: 1.5KW--75KW
5, the pump is a CPE three-phase sewage submersible pump, IP68 is a submersible motor
6, pumping station volume: 6000-80000 liters; pumping station diameter: 1--3 meters, height: 2--12 meters
7 Sewage pump is auto-coupled in the container, which is more convenient for replacement and maintenance.
8, double pump (three pumps, four pumps) installation, can be operated alternately, and can be used at the same time when the water intake is large.
STRUCTURE TYPE
The large integrated pumping station can be made into two structural forms according to the customer's needs:
First, there is a working platform inside the pump station. Its characteristics are more convenient to install, especially for pumping stations with a height of more than 7 meters. People can work and operate on the platform. It is also easy to excavate the foundation pit and hoist at the site, but the disadvantage is that after being put into use, there will be in the pumping station. Biogas generation is not conducive to access to the pump station for maintenance or other operations.
Second, the pumping station external inspection well. The utility model is characterized in that the valve is placed on the outer side of the pumping station, and an inspection well is specially prepared, so that the worker can easily open the manhole cover for maintenance, but the disadvantage is that the volume is large.