CNJ series GEL battery utilizes AGM and gel mixed technology, componsed of strong grids, high purity lead and fumed silica Gel electrolyte with good cycle life and wide temperature range performance. The unique plate design of the HUAFU CNJ series gel battery provides excellent frequent cyclic discharge performance. Patented structure design and focused on energy storage batteries with 30 years' experience, CNJ series achieve a cost effective product and widely used in different solar and wind system, lighting system, marine & RV energy storage parts.

6-CNJ-80 is one model of our CNJ series battery. It's a type of rechargeable maintenance free Valve Regulated sealed gel battery and designed for energy storage application, cycle use. The 12V80Ah @10hr battery provides the excellent characteristic for the wide range application of wind/solar system, off-grid home system, solar/wind lighting system and other energy storage filed.

Specification
Product Name
12V80Ah GEL Battery
Place of origin
Jiangsu, China
Brand
Huafu or OEM Service
Main features
Free maintenance, deep cycle, good charge acceptance ability, low self discharge
Designed life
18 years
Package
Well-packaged carton for each battery or customzied design as your request
Port of loading
Shanghai
Payment terms
T/T,L/C
Delivery time
10 working days upon payment
Rated voltage
12V
Rated capacity (10 hour rate)
80Ah
Products Standard
GB/T 22473-2008 ,IEC 61427-2005



Dimension
Length
260mm
Width
168mm
Height
213mm
Total Height (with terminal)
218mm
Weight Approx
22.1kg
Terminal
M6-16 Cooper Terminal
Application
Communication/communication station, power station, power transmission and transformation system, computer system protection, emergency power supply, UPS uninterruptible power supply systems, wireless stations and standby power automatic control
Feature
1). AGM (Absorbing Glass Mat) technology of which the electrolyte is absorbed.
2). Maintenance-free operation - no addition of water to the electrolyte is required.
3). Sealed Battery with Valve Regulated Construction .Can be mounted in any orientation.
4). Wide range of operating temperatures with temperature compensated charging.
5). Computer designed lead, calcium tin alloy grid for high power density.
6). Extended service life due to low self-discharge levels.
7). Available in flame retardant ABS material for the battery case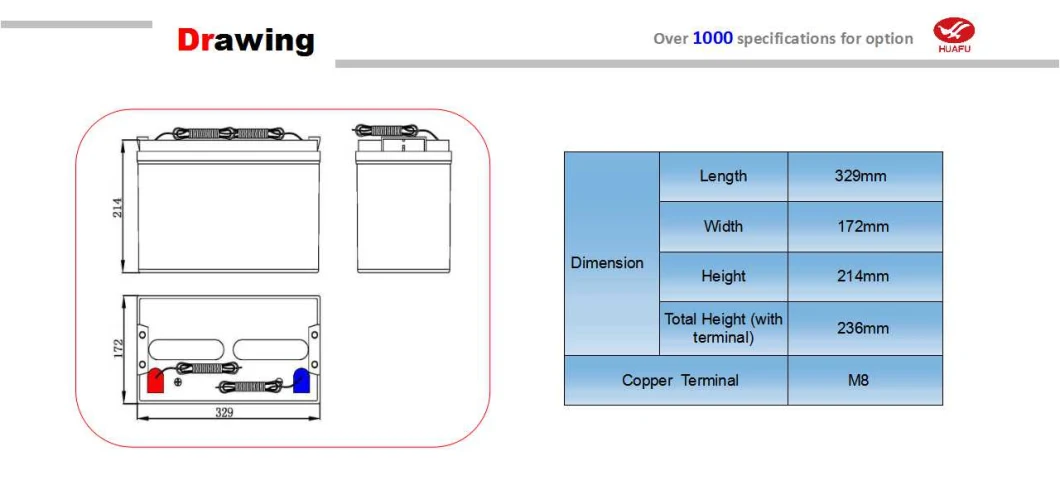 Characteristic
Capacity at 25'C (77'C)

10 hour rate / 1.8V/Cell

80Ah

Charge

Limit initial current to 20A.

Cycle Applications

14.5V-14.8V

"Float" or "Stand-By" Service

13.5V-13.8V

Ambient Temperature

-25'C~50'C
Construction
Element
Electrolyte
Positive Plate
Negative Plate
Container
Material
Colloidal Silicon
Lead dioxide
lead
ABS
Element
Cover
Safety valve
Terminal/Wire
Separator
Material
ABS
Rubber
Copper
Fiberglass
APPLICATION
solar (wind) household system, off-grid power station, solar (wind) energy communication,
solar traffic lights, solar building system, solar (wind) energy street lighting system
communication base station, mobile energy storage system,
Railway signal /Medical Equipment, Alarm system , Emergency Lighting
Control equipments, Telecommunication /Communication systems
Electric Power Supply /DC power Supply, Other standby or primary power supplies

COMPANY PROFILE
Huafu High Technology Energy Storage Co., Ltd is a leader in the battery industry for energy storage in China, manufacturer ranks NO. 1 in sales of GEL battery in Chinese market, with more than 30 years experience in producing and exporting environmental friendly rechargeable energy storage battery, motive power battery, reserve power battery and lithium battery, including AGM sealed lead-acid (SLA) Battery, deep cycle solar gel battery, long life OPzV Battery, long life lead-carbon battery, front terminal battery, energy storage lithium battery, power lithium battery, telecommunication lithium battery.

HUAFU - the leader in the storage battery industry
HUAFU - the leader in scientific and technological innovation in the energy storage industry.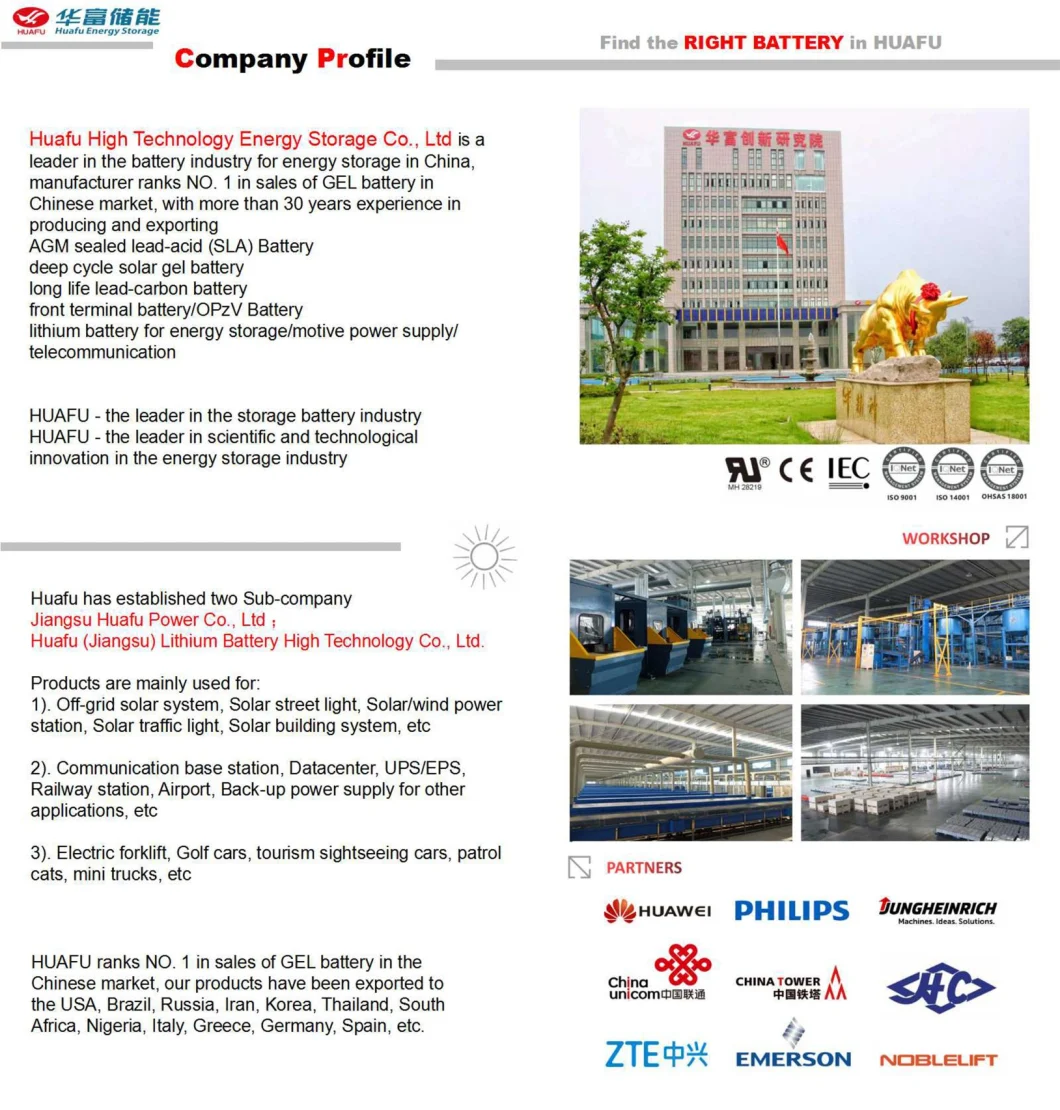 PACKAGE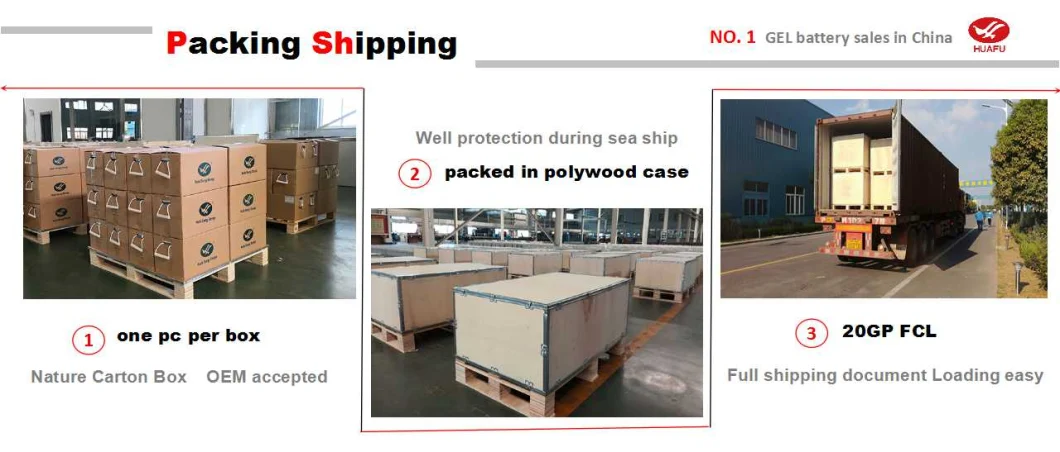 Total

Cases/20GP

Cartons/Case

Qty

/Carton

Carton Size

810pcs

18

45

1

342*185*273

Delivery

time

Loading

Port






7-15

days

Shanghai

Ningbo





FAQ
Q1: Are you a manufacturer or a trader?
A: Our company is a professional battery manufacturer in China. The factory located in Yangzhou city,Jiangsu province.We have more than 25 years experience in battery industry.
Q2: What kinds of battery will you provide?
A: We can provide full range of 2v/12v gel and lead acid battery, lead carbon battery ,EV battery, tubular battery, lithium-ion battery and so on.
Q3: Can I print my logo on the battery?
A: Yes. We can provide OEM and ODM service. We can print your picture or logo on the battery and box.
Q4: Can your battery meet CE requirements?
A: Yes, our battery meet CE, UL, ISO9001, ROHS, can be exported to almost every country.
Q5: Do you test all the batteries before delivery?
A: Yes, we have 100% test before delivery.
Q6: Do you have after-sales service?
A: Yes, battery with quality problems will be changed as long as the battery still under warranty period.
Q7: If I place an order now, how long it will takes you to arrange the delivery?
If we have finished batteries,usually it will takes 10-15 days to arrange the shipment. Otherwise, it will takes more than 15 days cause we need to arrange the production.