Similar products of pallet stacking rack system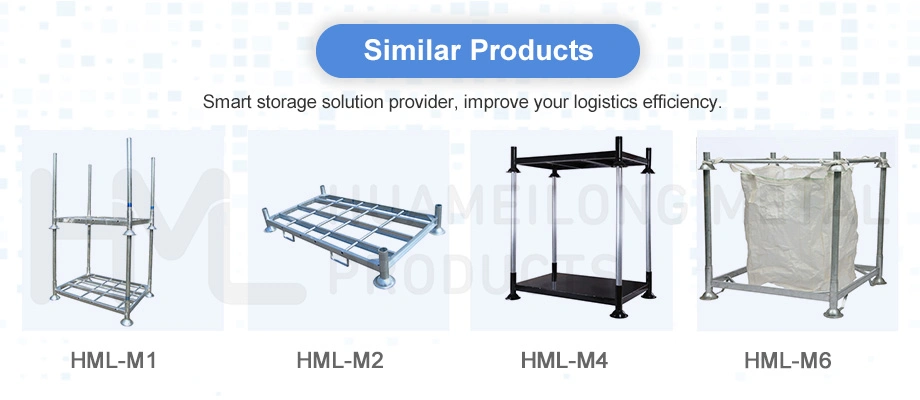 Specification of metal storage stacking rack
Same design, different sizes
Model No.

Exterior Dimension

Interior Dimension

Loading capacity

Stackability

Total container

LxWxH(mm)

LxWxH(mm)

kg

HML-NR1302

1300x1200x1200

1200x1150x1000

1000

4

1x40'HQ
HML-NR1304
1300x1200x1400
1200x1150x1200
1000
4
HML-NR1402

1400x1200x1200

1300x1150x1000

1000

4

1x40'HQ

HML-NR1404

1400x1200x1400

1300x1150x1200

1000

4

HML-NR1502

1500x1200x1200

1400x1150x1000

1000

4

1x40'HQ

HML-NR1504

1500x1200x1400

1400x1150x1200

1000

4

HML-NR1602

1600x1200x1200

1500x1150x1000

1000

4

1x40'HQ

HML-NR1604

1600x1200x1400

1500x1150x1200

1000

4

Material

Mild steel Q235

Finish

Powder coating

Available design

Detachable/undetachable

Application area

Warehouse, logistic, recycling, etc.

Remark

Costomized or OEM support

Key features
1.Ideal solution for palletized cargo.
2.eliminates the need for wooden pallets for loose cargo.
3.customized to suit your products and storage environment.
4.assembled and disassembled within seconds.
5.When not in use can be stowed away in less than 10% of space
6.No maintenance required
Warehouse metal storage pallet stacking rack system
Exclusive Inverted Angles--Safe, secure and simple movable nestainer rack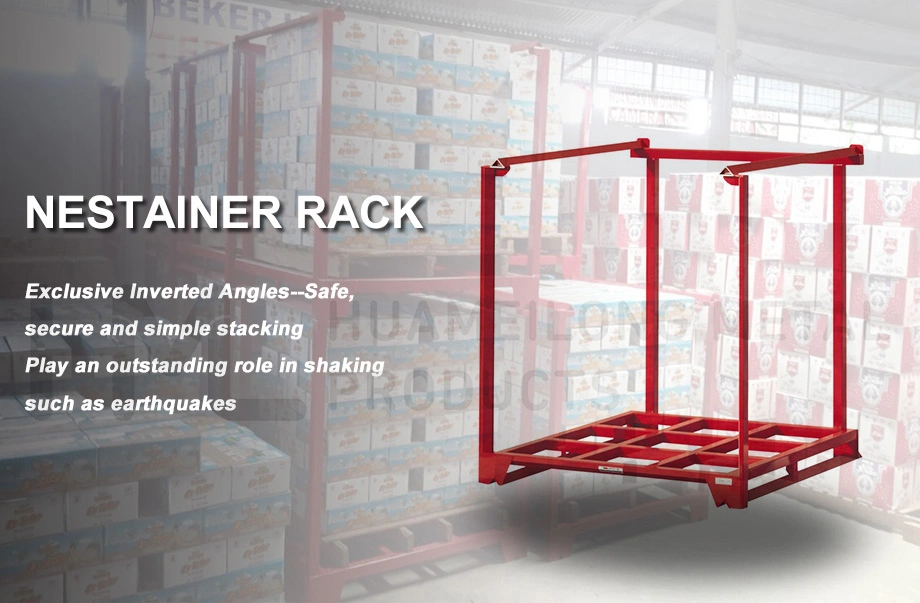 Details of warehouse stacking rack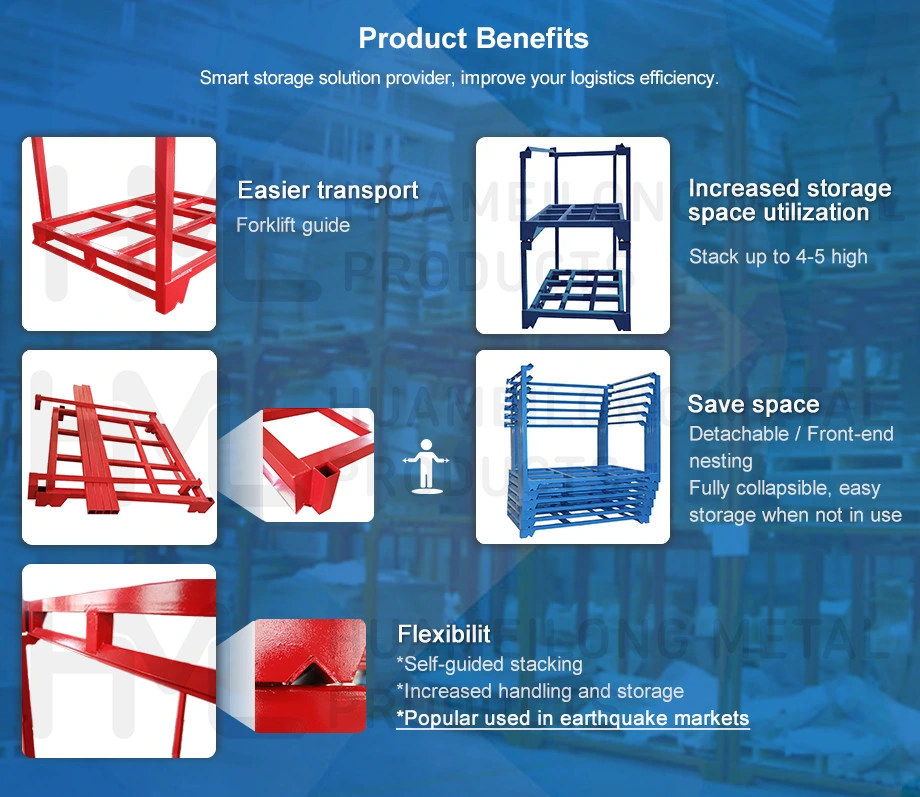 Application of storage pallet stacking rack system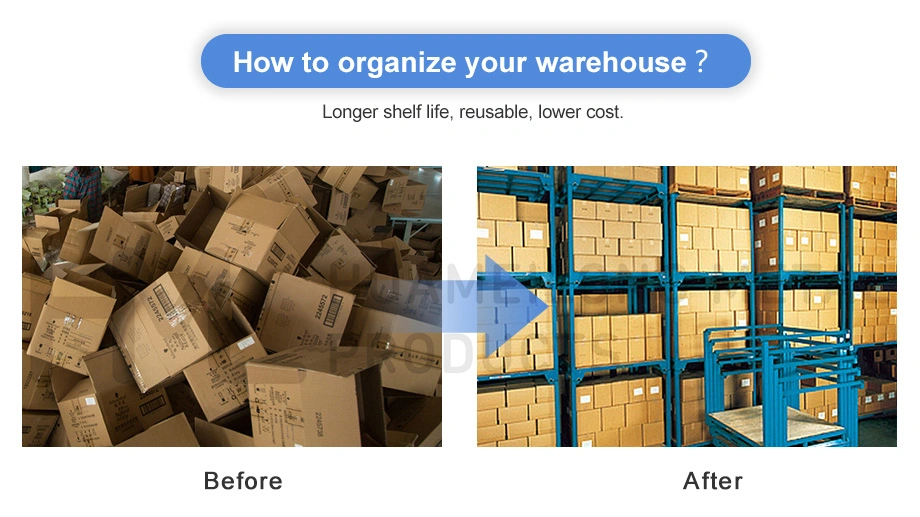 Plastic banding+Stretch film wrapped,easy loading and unloading with standard forklift truck or pallet jack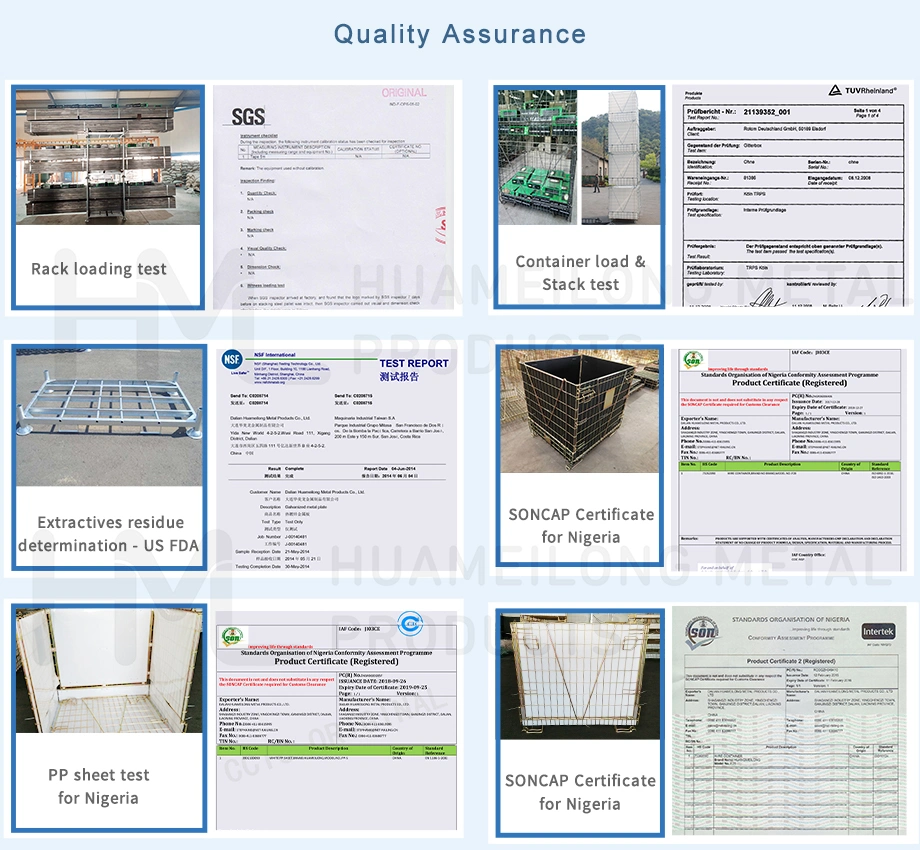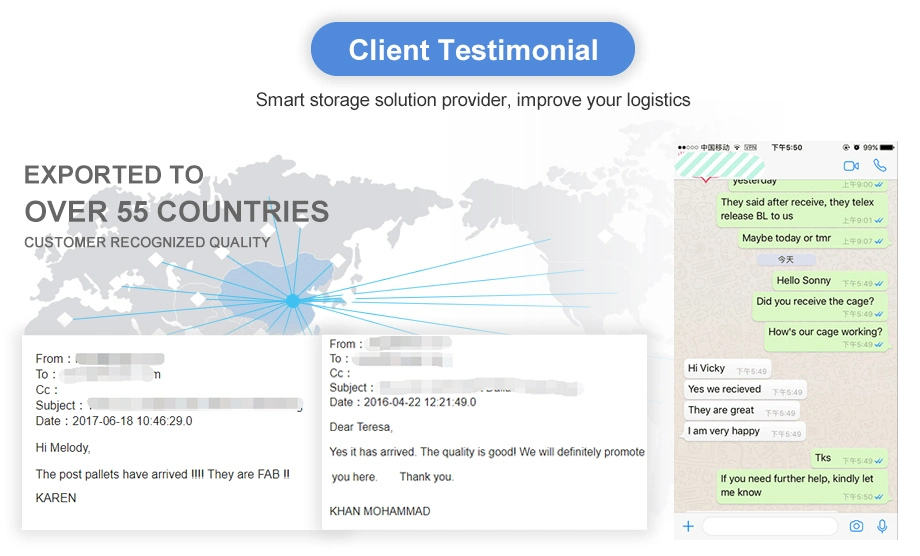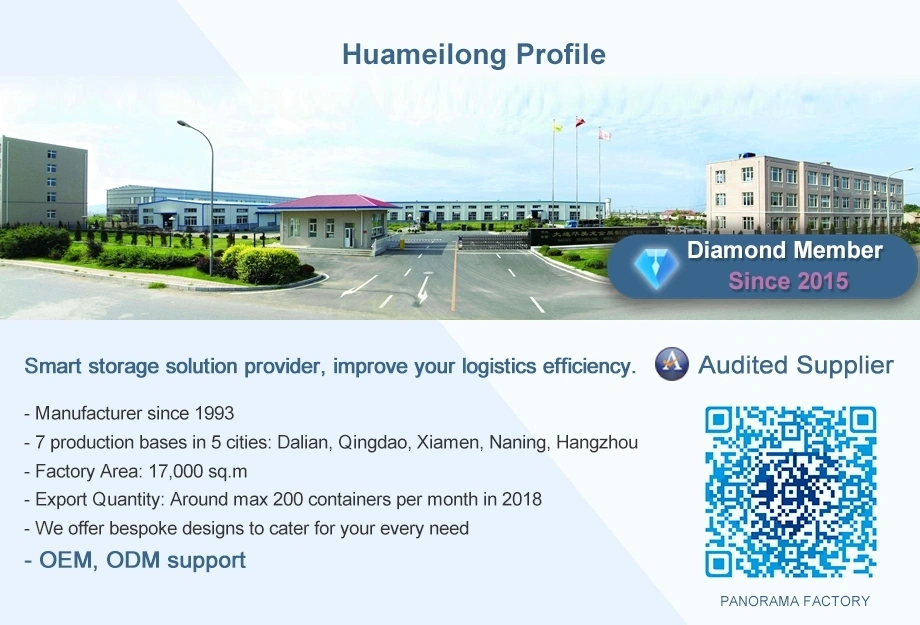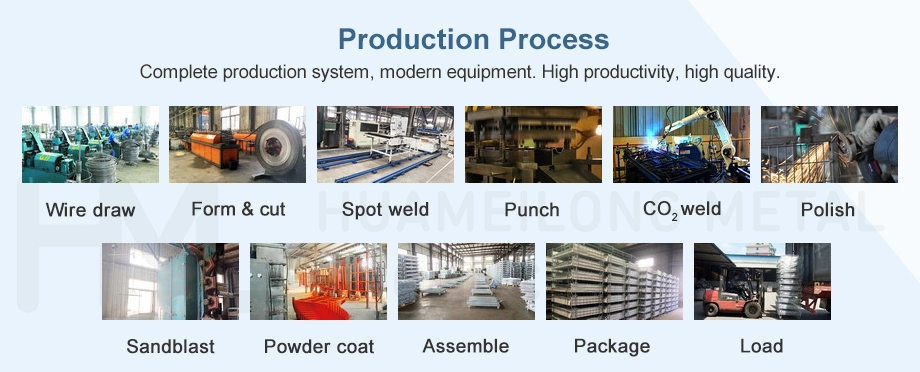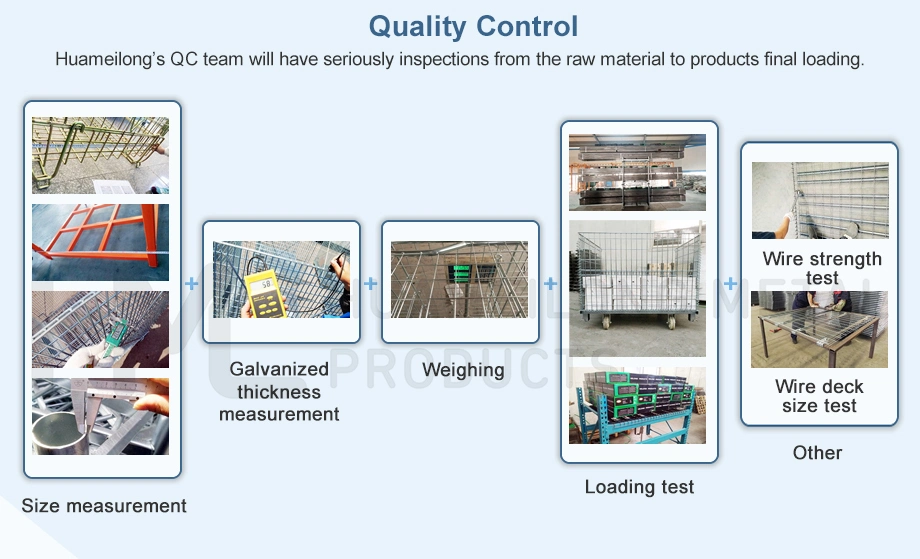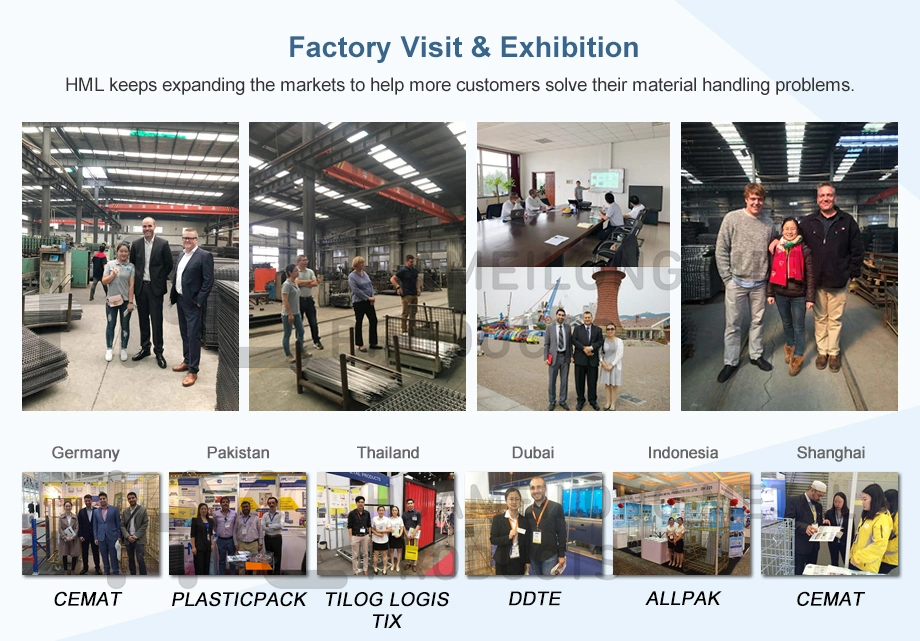 FAQ
1, What is the material being used for your products?
Mild steel Q235, Q195
2, How is the goods being packed?
Plastic banding + Stretch film wrapped, palletized for easy loading and unloading with
standard forklift
truck or pallet jack.
3, What is the payment terms I can get?
TT or L/C at sight, DP etc
4, What kind of finish do you provide for your goods?
A.Electrol galvanized/Zinc plated: the zinc serves as a sacrificial anode( indoor storage)
B.Hot dip galvanized: it forms a coating of corrosion-resistant zinc(indoor/outdoor and cold storage)
C.Powder coating: a type of coating that is applied as a free-flowing,
dry powder(indoor/outdoor storage)
5, What is the loading capacity?
In general, we have light duty(100~300kg) model,medium duty(400~800kg) model
and heavy duty(1000~1700kg) model available for your choice.
6 Which product can be used in cold storage?
Mobile rack,wire container and roll cage are all widely used in cold storage.
7 I like your design, but couldn't find the right model from the products list, is custom size available?
Yes, we do custom products and projects.
8 I would like to have my own design products and qty is not that big, is it ok?
Yes, we can go with your custom design, no matter small or big qty, however, pls
understand the cost will be different.
9 I don't
have drawing or picture available for the custom products, could you design it
for me?
Yes, we can make the best suitable design for you but do need to know the details,
such as a) dimension b) loading capacity c)stackability d)operation environment
10 What is the minimum quantity I can order?
1x20'GP - qty is variable depend on the size
11 What is your average production lead time?
2-3 weeks against formal order and deposit.
12 Do I get any guarantee from your company?
3~10 years warranty in case that
A) Proper handling during operation, correctly forklift
handling while stacking/unstacking
B) Overloading is prohibited
C) Environment request
indoor, dry and not humid circumstance, do not contact with any corrosive chemical
material (for zinc plated and powder coated products, no limitation for hot dip galvanized)