Standalone Access Control -Metal Shell:
The ZDAC-2000 uses the latest microprocessor technology to operate door strikes and security systems that require a momentary (timed) or latching dry contact closure. All programming is done through the keypad. Codes and operating parameters are stored within the microprocessor and can not be lost due to power failure.
The ZDAC-2000 can store 1000 prox cards and user 4 digit password codes. Each 4 digit password code has 10,000 possible combinations. The unit has one relay output with 5 Amp changeover contacts.
Features:
- Exquisite designs with non-masking Metal shell
- Keystroke backlight
- Card appliance: 125kHz EM ID cards
- Reading range: up to 5 cm
- Change Codes 1 master,1000 users & prox cards
- Door open detection
- Door relay time 00-99 seconds; Alarm time 00-99 minutes
- Wiring Connections: Electric Lock, External Bell, External Push Switch, Magnetic Contacts
- Alarm function
- Non volatile Eeprom memory
- Application: luxurious office building, bank, Prisons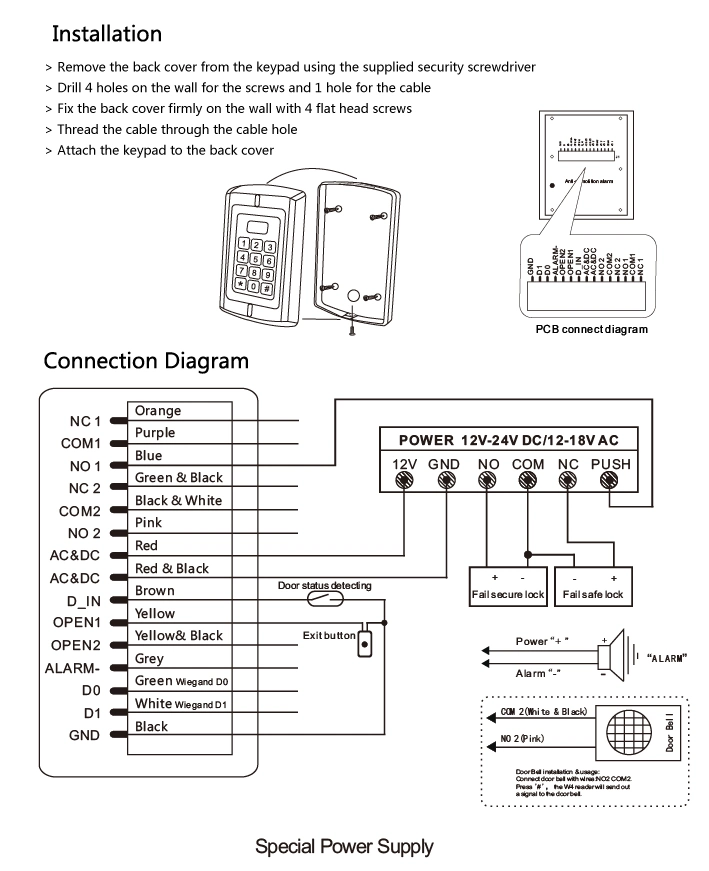 Model
ZDAC-2000
Card Types
EM or EM compatible
Codes
1 Master, 1000 cards and 1000 codes.
Induction Distance
5 ~8cm
Door Relay
DC12V/5Amp
Alarm output load
150mA pull current
Tamper Protection
Negative loop, normally closed
Keypad
12 keys, 3 LED status indicators
Wiring Connections
Electric lock
Remote Request to Exit
Door open detection
External door bell
External Alarm
Memory
Non volatile eeprom memory
DC Supply Voltage
Low voltage input, 12 ±10% Vdc unregulated
Current Consumption
100mA @ quiescent maximum
Operating Temperature
0°C to 60°C (32°F to 140°F)
Keypad Housing
Metal
Dimensions
128mm x 82mm x 28mm
Weight
500g
* Packing box: 14*10*7cm; Weight: 0.5kg /pc
* Packing box: 14*10*7cm; Weight: 0.5kg /pc
Related Products: